Need vehicle signage? HIE Signs is able to create and provide vinyl lettering and digitally printed vinyl decals. Need something temporary? Magnetic vehicle signage is also available. From full vehicle wraps to simple rear window lettering, HIE Signs can install your vehicle signage requirements on your site or ours at your convenience.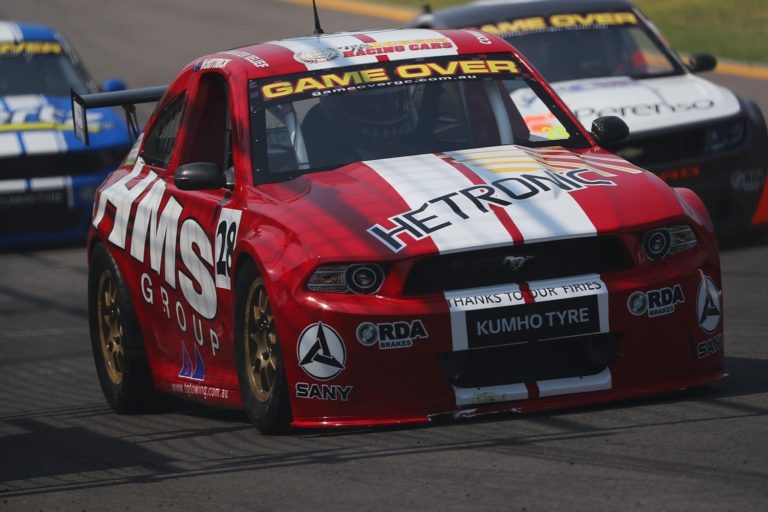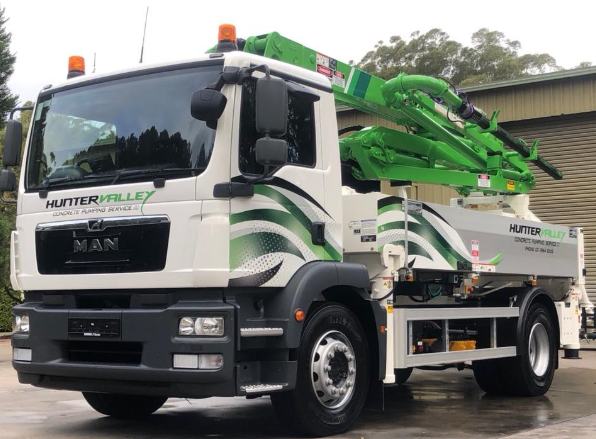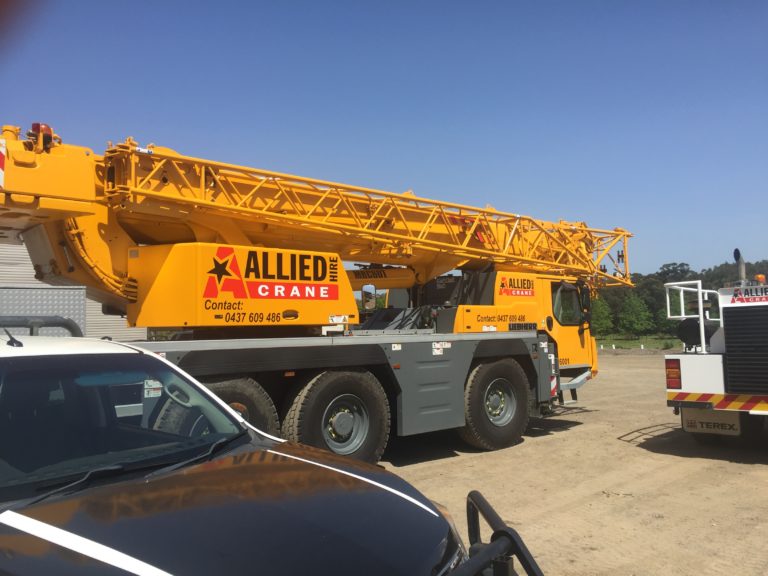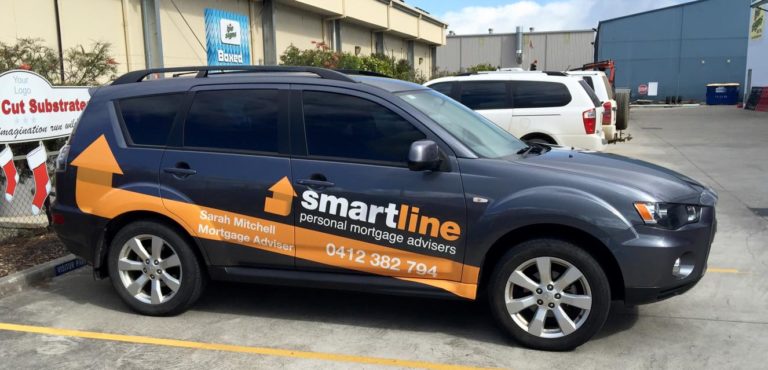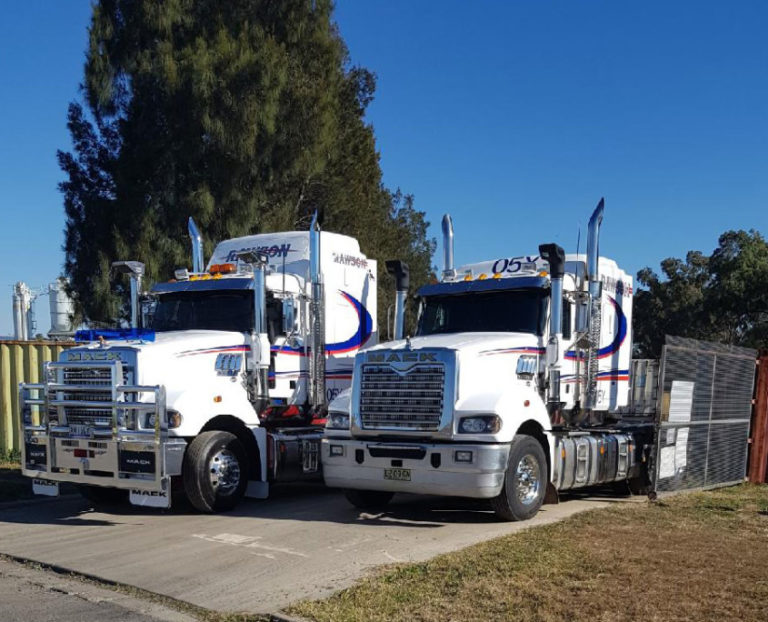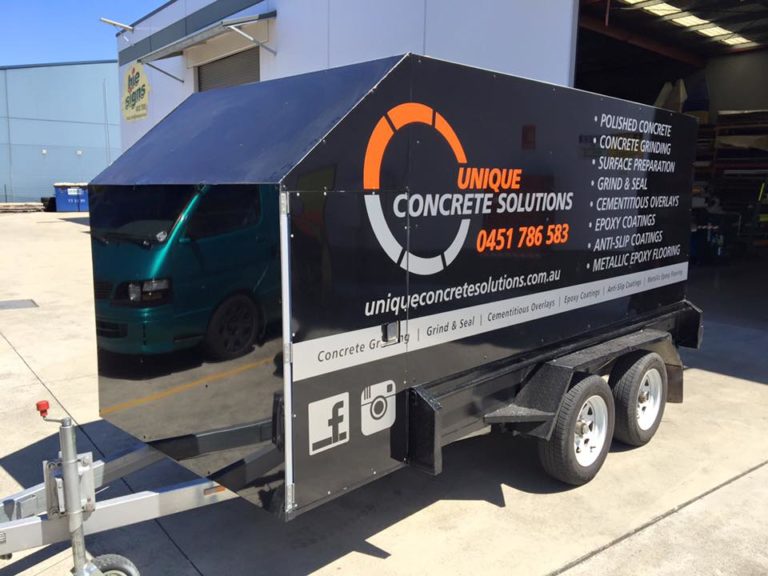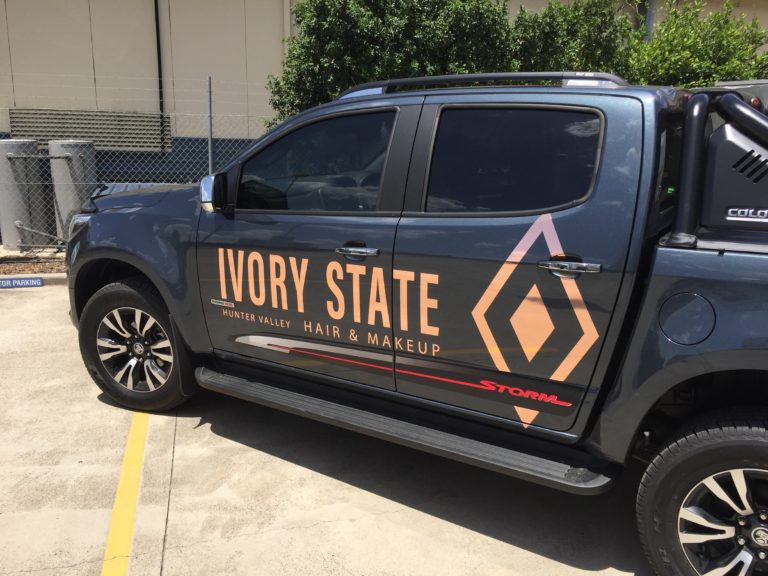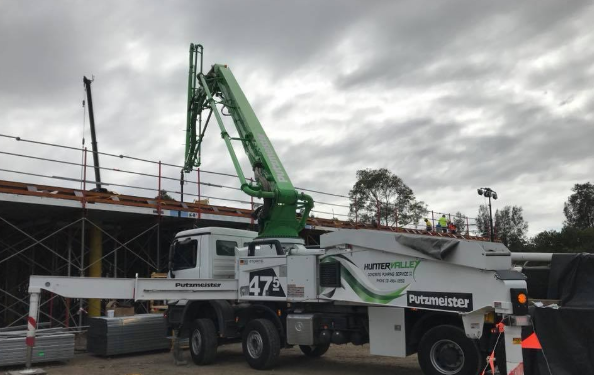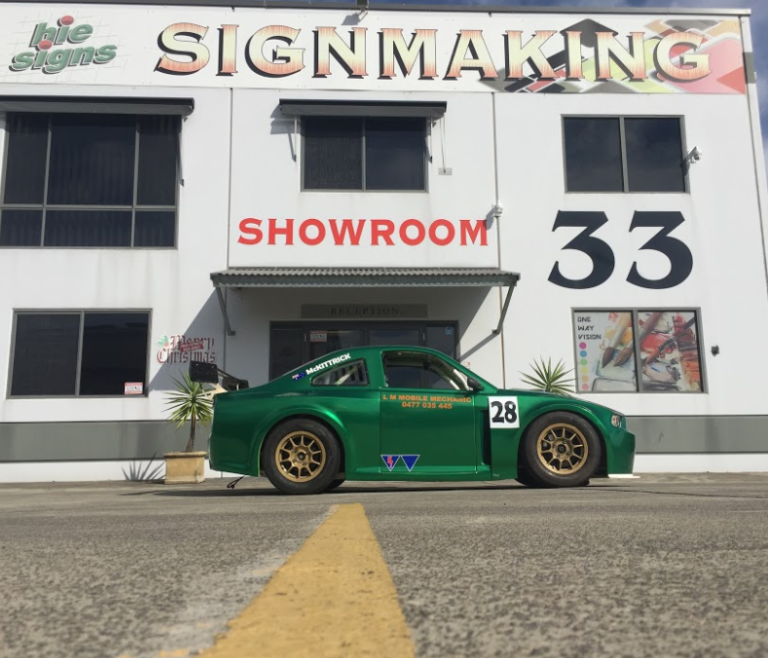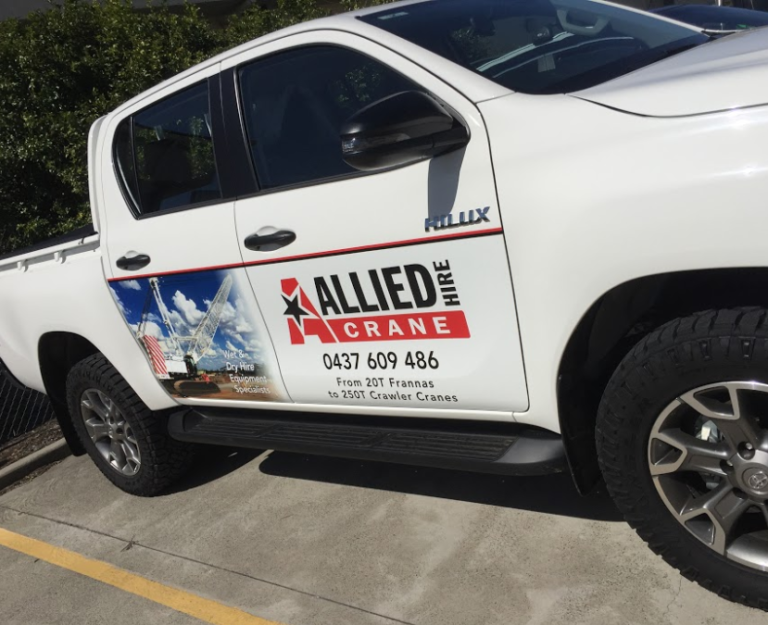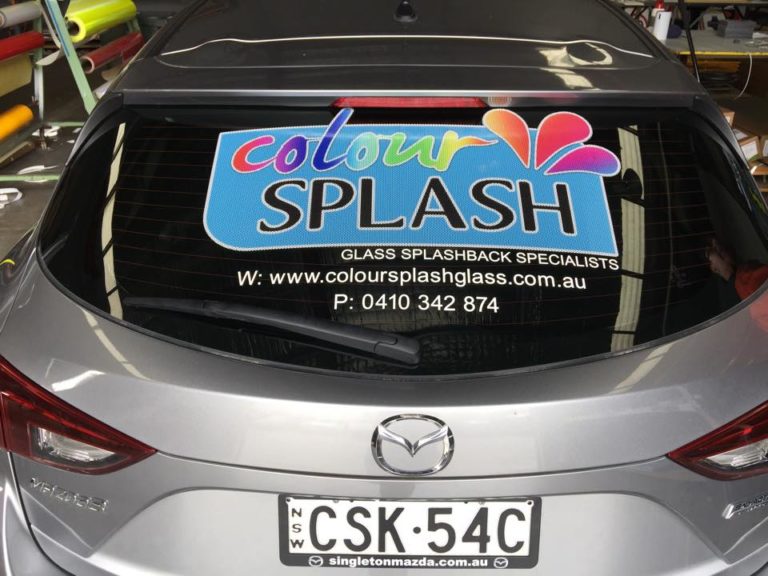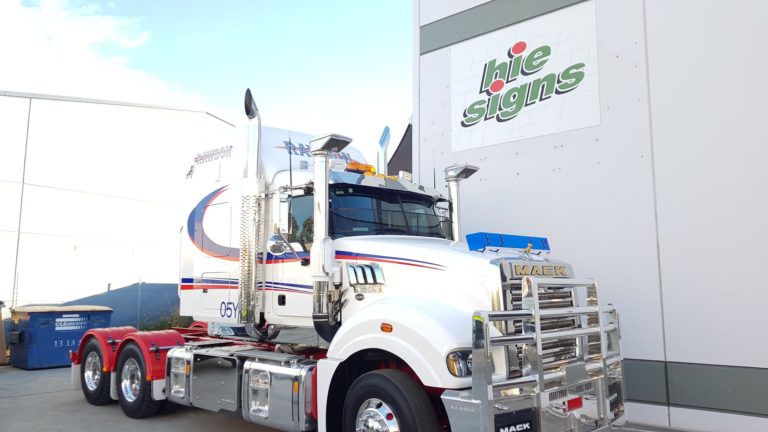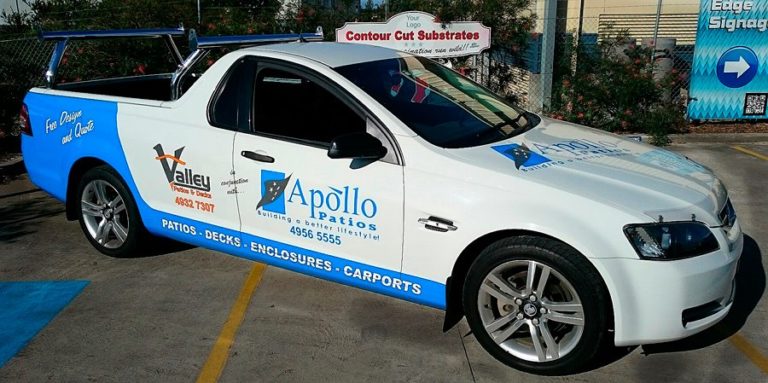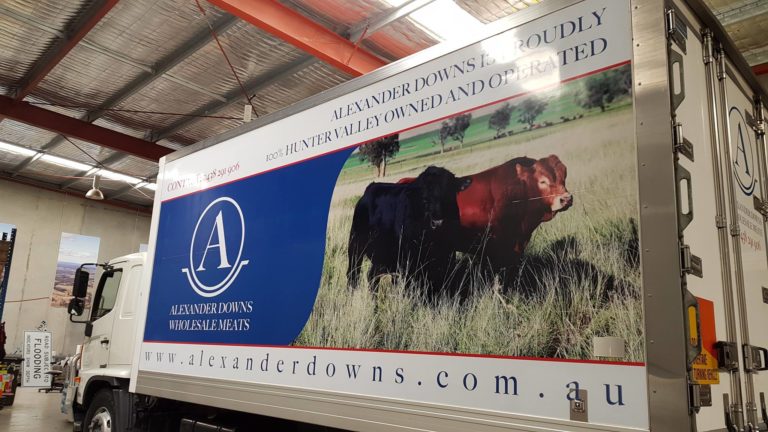 Vehicle Vinyl Signage Installation
HIE Signs offers vehicle signage installation for all vehicles. From race cars, commerical cars, mining specification utilities, trucks to semi-trailers – if there is a sign on a vehicle, chances are we have installed it. 
Our workshop (centrally located in the Hunter Valley), has access for all vehicles – big and small. Two of our staff hold heavy vehicle licences.
Fleet, Mine Specification & Corporate Vehicle Wraps
Get your business the attention it needs with the best car signage in Maitland! From partial car wraps to complete corporate signage solutions, HIE Signs are the Hunter Valley's leaders in business vehicle wraps. Our corporate designs for vehicle signage will transform your business vehicles, whether they are cars, trucks or trailers into a mobile billboard. We have installed custom vehicle signage on race cars, mine spec trucks to concrete trucks! Vehicle signage and branding with car wraps that will work for you, 24 hours a day 7 days a week.
Vinyl Graphics & Digital Prints For Vehicles Hunter Valley 
From a basic corporate design or subtle car window signage, our quarter, half, bonnet, boot or full body vehicle wraps will transform your work vehicle into a mobile billboard offering your unique goods and services. HIE Signs offers expert advice on what to put on your car, excellent product quality and using only the best materials. With a full warranty on all our workmanship, you can trust our products to achieve long lasting, superior results. We have helped customers in numerous industries be seen, including: racing, industrial, hospitality, beauty and more! 
Custom Designed Vehicle Signage For The Roads Of Maitland
Take advantage of our in house graphic designers and signage installation team to ensure your car is seen on the roads of Maitland, Singleton, Cessnock, Newcastle and the Hunter Valley. Our team sets the standard in terms of vehicle signage in Maitland. We offer one way vision signs, magnetic signs for cars, car wraps, vehicle lettering, trailer signs and fleet graphics. Why not check out some of our excellent car sign results!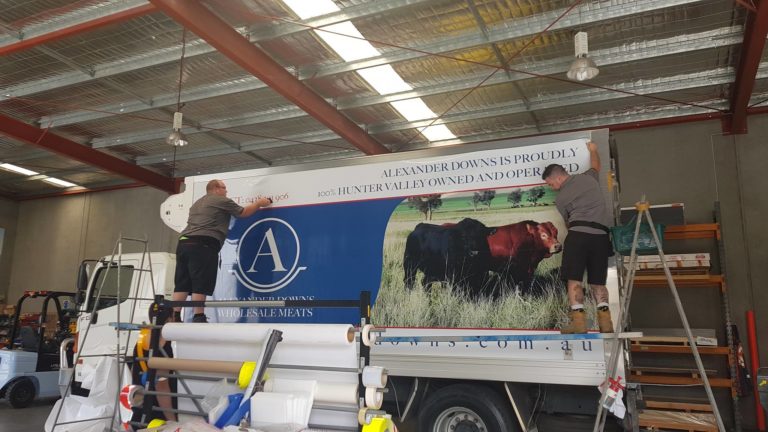 Partial Vehicle Wrap Installation
HIE Signs are skilled applicators when it comes to partial car wraps. Whether you're interested in turning your car into a travelling billboard or you want a subtle new look, we've got you covered. Our partial wraps are made of high-quality vinyl that is guaranteed to look fantastic for years to come. We've worked with lots of customers around the Hunter Valley so you can rest assured that we provide fantastic and reliable results. 
If you're in the market for vehicle graphics then look no further than HIE signs. We offer quarter and partial wraps for bonnets, boots, windows, and doors. These wraps are vibrant and eye-catching with a variety of styles, colours, and lettering available. Our friendly team can offer expert advice and help you to design a partial wrap to suit all your needs.
Partial Vinyl Vehicle Graphics & Wraps For Vehicles Hunter Valley 
HIE Signs are the Hunter Valley's leaders in business partial vehicle wraps. We've worked with countless clients and businesses from Newcastle, to Maitland, and even from Lake Macquarie and beyond. These vehicle wraps are used in numerous industries including; hospitality, retail, racing, real estate, and so much more!
Our extensive partial vehicle wrap options can be customised and designed to suit your requirements. We have a wide range of car wrap colours and styles to choose from. 
Fleet, Mine Specification & Corporate Partial Vehicle Wraps
Utilising our commercial wraps can transform your boring work vehicles into premium advertising space. These wraps for business cars, or wraps for fleet cars, are a great tool for boosting brand awareness and advertising your company anytime and anyplace.
Alternatively, if you were looking for a new look for your personal car then we can help you with bespoke vehicle wrapping. Additionally we offer vibrant graphics and car stickers. We even do stripes for that cool race car look. Our partial wraps are perfect for whole panels and car body parts. Our wraps can be tailored to fit any existing bodywork colour or other styling features seamlessly. Anything is possible, partial wrapping is down to your imagination!
Premium Partial Car Wrap Newcastle & Car Wraps Maitland 
At HIE signs we take great pride in our workmanship and competitive pricing options. Our car wraps costs are affordable while retaining their premium quality. If you need any kind of partial car wrap or graphic sticker then there's only one place! HIE signs can offer helpful advice and high-quality wraps for everyone.