We currently provide a service that allows you to customize your electrical switches with UV Printing or Laser Engraving. These can be used for Branding, Advertising and General Information.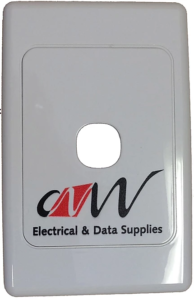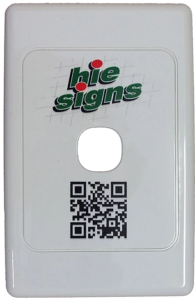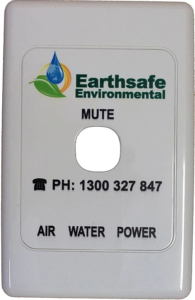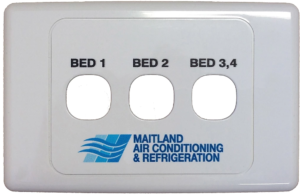 HIE Signs Electrical Switch Stickers
HIE Signs has a solution for every problem that needs a sign. Even if you need electrical switch stickers or electrical switch labels, HIE Signs have got you covered. 
Whether you need to quickly locate the exact switch you need or require a safety sign for an electrical switch, our electrical switch stickers can be customised with UV Printing or Laser Engraving. 
If you're on a worksite and need to make sure your workers know where the electrical cable warning signs or electrical danger signs are, we can help you install these. It is also important to know which switch turns on which light in case you need to ensure the switch is correctly turned off before any maintenance work is done.
The Functionality of an Electrical Switch Sticker
Our electrical stickers are quite unique. We make the installation quick and easy as we do it for you. Because each label identifies which switch engages which light, our safety signs for electrical switches eliminates any confusion you may have with your switches.
Even if you need safety stickers for electrical switches for 2, 3, 4, 5, or even a 6-gang set of switches, our electrical switch stickers can stick anywhere above or below the switch to recognise whatever you need to turn on or off. 
Our electrical switch labels can also be used domestically to identify lights, fans, garbage disposal or any other outlet. They can be great if you have an Airbnb, a guest room, are renting out a granny flat, or even for your tenants in an investment property.
Our Commitment to You
We have done this kind of work for years and are able to deliver your product within a week. Or if you need them quickly, we can provide the electrical stickers urgently for you as well. Some light switch arrangements are downright confusing and these electrical switch stickers eliminate that problem. We can even install safety signs for electrical switches in your garage or shed if you have a complex lighting setup that needs to be simplified.
If you feel you need any electrical switch sticker from a light switch sticker to safety stickers for electrical cables or electrical cable warning signs, give us a call and we'll get you some stickers in no time.
Electrical Switch Stickers
HIE Signs are your one-stop shop when it comes to electrical switch stickers. Whether you need to advertise, warn of danger on the worksite, or get a switch sticker for personal use, we've got you covered. We utilise the latest technology in UV printing and Laser Engraving to ensure your electrical switches are high quality and long-lasting. We can print directly onto any switches using our state of the art flatbed printer. 
Although they may seem niche, there is an infinite amount of possibilities when it comes to electrical switch stickers. From the worksite to the home, and everywhere in between, our light switch stickers and electrical switch stickers can be used for anything and everything. 
Electrical Switch Stickers for Worksites
On the job site, the number of switches and electrical boxes can get confusing. This confusion can lead to delays and possible hazards if your employees don't know which switch or light they're turning on. With our electrical switch symbols, those concerns are a thing of the past! HIE Signs have distinctive and eye-catching designs and bright colours that are sure to capture everyone's attention. 
These products are great for alerting people about possible hazards with our safety stickers and warning them about electrical cables with bold designs. Regardless of what kind of worksite plug socket sticker you require our friendly team of experts can assist you to find the perfect sticker match. We've helped clients in innumerable industries including plumbing, landscaping, hospitality, retail, and so much more. 
Laser Engraving for Light Switch Sticker
Our custom light switch stickers are also great for around the home. We have you covered whether you're looking for a cute design for kids or an important safety sticker for your garage and home. They are also great for signalling where outlets are like lights, ceiling fans, exhaust fans, and other electrical switches. These symbols and graphics are a great tool for showing which switch corresponds to lights or air conditioners in another room. 
We've even customised QR codes for electrical switches in case you need people to be able to scan them. This is great for maintenance people so they can log possible reports or warning them about possible hazards. 
Hunter Valley and Newcastle Electrical Switch Stickers 
HIE Signs are a leading provider of lightbox switch decals and stickers to the Maitland and Newcastle area. With the latest technology and high-quality materials, you can be assured you're getting the best, premium stickers in the Hunter Valley for a highly competitive price.