The Bushfire Buddy by Gutter Block is the best way to protect your home from ember attack. When your home is threatened by airborne embers, you don't have time to block your gutters using awkward methods like tennis balls or sand bags, or time to climb a ladder to install them. You need to be fully prepared so that you can block your gutters easily in an emergency situation.
The Bushfire Buddy fits easily to your standard 90mm circular downpipes and can be installed at any height so that anyone, including the elderly and disabled, can easily access it in times of emergency. With a turn of the red lever on each device your downpipes are sealed water-tight and you can flood your gutters with water using your installed sprinkler system or using a hose.
The Bushfire Buddy is easy to install yourself by following the instructions provided by HIE Signs, or you can contact a plumber or roofing contractor to do the work. The Bushfire Buddy is covered by a 10-year warranty.
Only $39.95 inc - Free Shipping For Orders Over $200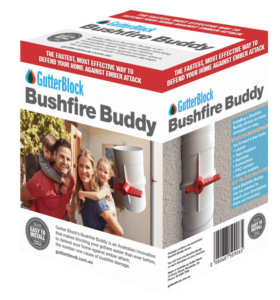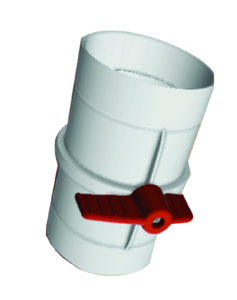 Q: Am I at risk of bushfires?
A: It is important to find out if you live in a bushfire zone. The government websites listed on our Bushfire Survival Plan page have plenty of useful information relevant to your area.
Q: Who should install the Bushfire Buddy by Gutter Block?
A: Anyone living in bushfire prone areas should have Bushfire Buddys installed on their downpipes or gutter outlets to assist with the defence of their property during an impending bushfire threat or ember attack.
Q: How do I install the Bushfire Buddy by Gutter Block?
The Bushfire Buddy is easy to install!  A full list of required tools and installation instructions is provided with the product and the instruction sheet is available to download here as a PDF.